The first IWSM conference
This conference was initiated during the founding the SML@b in Magdeburg after the change in Germany by Reiner Dumke (Otto von Güricke University of Magdeburg) and Horst Zuse (Technical University of Berlin) in order to establish a German metrics/measurement community involving the international research activities.
Papers
On this conference 11 papers were presented from France, Greece, Germany, Hungary and Norway. These papers were published as hard-copy conference proceedings.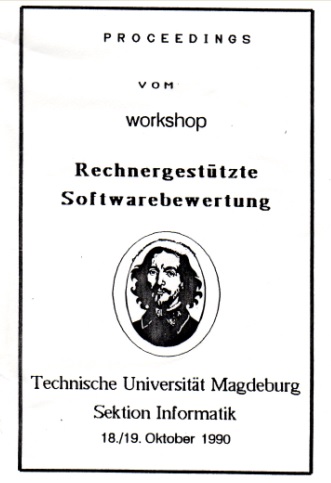 Brauns, E. (University of Magdeburg): Analysis of Software Complexity in Different Programming Languages
Deininger, M. (University of Stuttgart): A Schema for Metrics Classification
Dumke, R. (University of Magdeburg): Software Metrics in the Software Design
Jannasch, H. (University of Applied Science of Economy of Berlin): Investigation of Software Metrics in their Applicability in Software Quality Evaluation
Leiste, H. (University of Magdeburg): Conception of a Software Evaluation Workplace
Niviox, J. (BULL Paris, France): SQA in a Changing Environment
Schaefer, H. (IT Consulting, Norway): Metrics for Maintenance Management
Szentes, J.; Jannasch, H. (SzKI Budapest, Hungary): QUALIGRAPH – a Tool for Software Quality Measurement and Graphical Software Documentation
Tsalidis, C. (University of Patras, Greece): The ATHENA Software Measurement Tool
Zuse, H. (Technical University of Berlin): Software Complexity Measures – Properties of Software Complexity Measures
Organization
General Chair
Reiner Dumke, Otto von Güricke University of Magdeburg
Program Chair
Horst Zuse, Technical University of Berlin
Program Committee
Jürgen Berger, SIETEC Berlin
Reiner Dumke, University of Magdeburg
Hans Schaefer, IT Consulting, Norway
Janos Szentes, SzKI, Budapest, Hungary
Horst Zuse, Technical University of Berlin
Paper presentation

Otto von Güricke